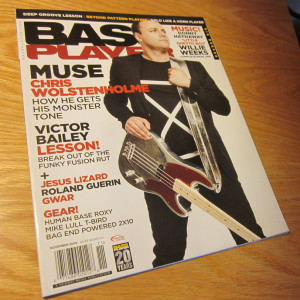 Reviewed by Bass Player Magzine:
This cool new book seeks to describe all that the average player will need to know to have a workable familiarity with nearly every common musical style. Read the complete review at Bass Player dot com.
Endorsed by Paul Jackson "The Headhunter"
"The Bassist's Bible is a great tool, something I wish I had had when I was coming up."
Reviews from Amazon
"Love this book"
ByN. Jacobs "nj"on May 10, 2013
"Great overview to whet your appetite"
By J.M. on August 4, 2010
"Wish I had this book years ago"
By Tiger Bob on December 3, 2009
"fabulous resource"
By Mrs Betty Turner on September 13, 2010
"Want to be in a Band? Start with the Bass Guitar and this book"
By Jeff Bennett on January 2, 2014
"Excellant resource for getting many styles of beats under your belt."
By D. Freeman on October 12, 2014
"Must Have"
By Matt on January 8, 2014
"Nice reference book"
By Elder on October 22, 2013
"Full of Info"
ByJ. Bingon January 22, 2015
Thank you everyone for such positive reviews!